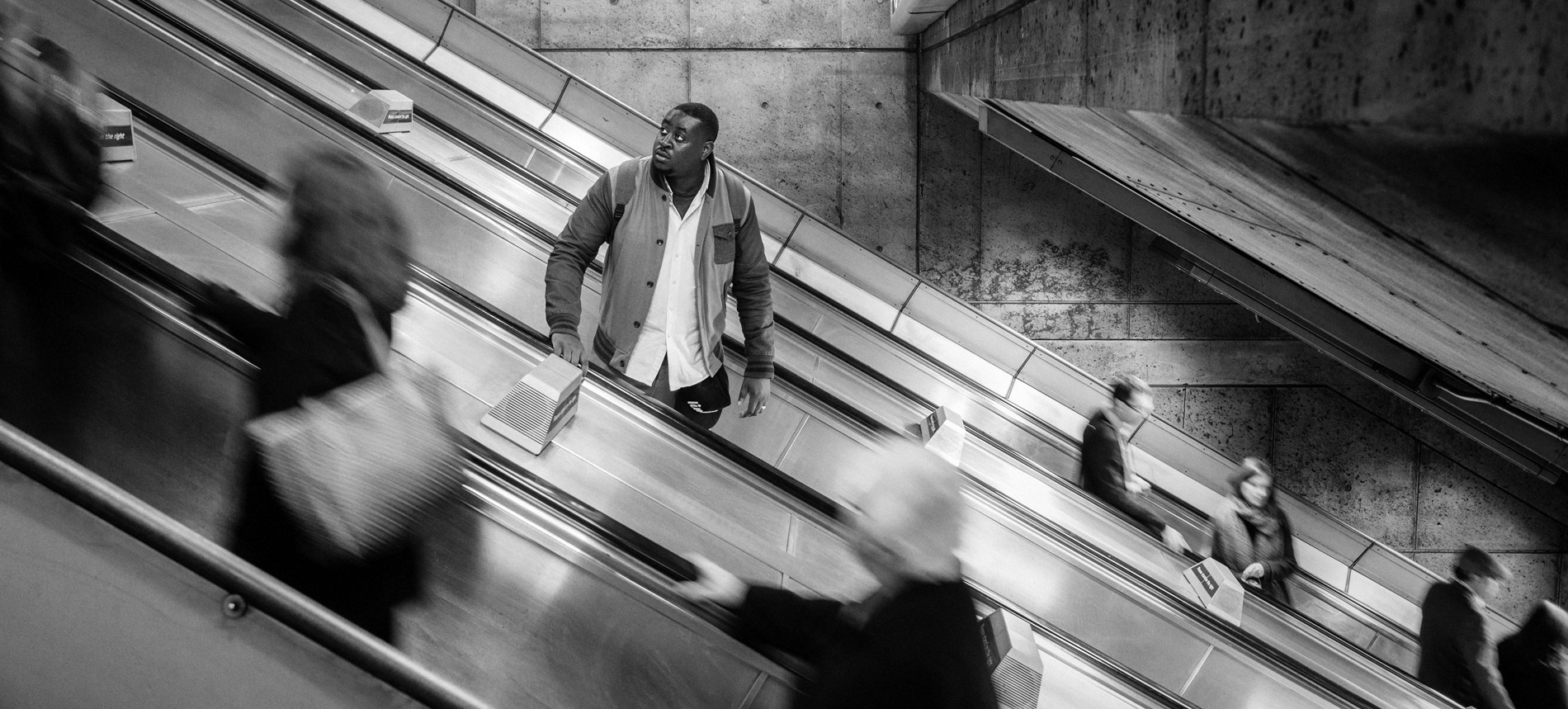 No stranger to the stage, AKS began performing at the Albany Empire Theatre in Deptford, London after clambering onstage, aged seven, whilst his dad was singing. After his first impulsive experience in the spotlight, AKS developed a taste for the stage and performed there many subsequent times, singing his father's songs.
Along came secondary school, adolescence and rebellion, all of which saw AKS swap the parental encouragement to learn to play the piano for electronically produced urban beatscapes. Fascinated with the early Grime scene, he became a regular feature in pirate radio sets on South London Radio stations like N-Tyce FM. Delivery came easily to him, as did the waves of positive feedback from his immediate community.
During his college years, AKS was inspired by hearing "complete and utter sense put together in a form resembling articulate prose." He was astounded that somebody from these shores could write something emotionally & politically productive and articulate it in a way that touched people. "It's one thing to appreciate the 2Pacs and Nas' of the world on CD – but to hear someone rap with skill and impact first-hand, and without an American accent…" lured AKS towards Hip-Hop with conviction.
Since that point in time, AKS has gone on to perform alongside formidable talents like Daley, Shakka, Stooshe, Chip, TY, Ghetts, & Wretch 32 at various events, including the In The Mix Festival (Burgess Park), Voice Of The Streets (Stratford Circus), and Queens Park Festival.
A strong stage presence and a commanding voice with a diverse flow are the impressive tools with which AKS exhibits his memorable and talented skill for writing lyrics. He raps deeply and provocatively, catching your attention from his first utterance with sincere and impassioned delivery, attention-catching murmurs and earnest words.
AKS draws on commonplace experiences, with lyrically introspective reflections on the two-way relationship between himself and his environment. Tired of the consuming 'get-this-money' factor of many rappers which leave one wondering what happened to the person behind the image, AKS explains: "Yeah you've gotta get dough, but you're also a person. I just want to show that person. For me, it's not a case of what sounds good, but more about what sounds right."
AKS has been on a steady rise over the last few years with the release of consistently excellent music and moving live performances, refusing to compromise musically in an increasingly commercial environment.
His 2009 mixtape, A Miracle in the Making, boasts fan-favourite 'This 80's Baby' – as featured on BBC Radio 1Xtra and his ground-breaking performance on the popular online music platform The Cordless Show – culminating in significant co-signs from several veterans and key names in UK rap including TY, Swiss and 2009 Mercury Music Prize winner Speech Debelle.
Two years on from his well-received debut, "Modes of Transport: The Bus Stop EP" certainly proved to be worth the wait… With a wealth of soulful Hip Hop musical milieus from the likes of Nutty P, Chemo, Self-Taught and newcomer P.Y to complement AKS' most definitive song-writing and delivery to date. The Bus Stop EP is evidence of the well-rounded artist he has become.
Since the EP's release AKS has created an eruption on the music platform. Starting off with a bang at his memorable EP launch party, which saw an intimate, but sizeable crowd wowed by the live performance of each EP cut. The vibe in the party was phenomenal and the reception AKS received was nothing less than he deserved, further highlighted by the solid co-sign received from Roc Nation's Young Guru (The sound man behind some of Jay Z's biggest records).
With two Unsigned Music Award nominations under his belt following the release of his eagerly anticipated sophomore project "Train of Thought EP", its clear that AKS is regarded as one of the most promising talents in the UK, and the world is definitely within reach of his Oyster Card.
…a shot in the arm to those left feeling blasé towards the majority of modern hip-hop…
…may very well go beyond the backpackers and capture the imagination of those enduring the simplistic representations of this artform…
Its all about AKS. Flow, tone and wordplay of a heavyweight that allow him to stand out amongst the crowd of MCs out there!
AKS attention to detail in his wordplay alone keeps you coming back for more, and the EP's jazz inspired classy production is the icing on the cake, transcending the norm.
90/100
…one of the new breed of excellent UK rap artists that are likely to make a lasting impact!
SEE THE 3 LETTER MAN BRING HIS WORDS TO LIFE
| | | | | |
| --- | --- | --- | --- | --- |
| | UMA Horizon @ Hospital Club | London, United Kingdom | | |
| | Sofar London | London, United Kingdom | | |
| | Sofar London | London, United Kingdom | | |
| | Sofar London | London, United Kingdom | | |
| | | London, United Kingdom | | |
| | Instros Only Producer Showcase | London, United Kingdom | | |
"WHEN EVERYTHING'S ALL SAID & DONE, LOOK HOW FAR I'VE COME!"